Six Women / Two Decades / One Mountain
This vibrant collaborative piece tells a modern tale of alienation through the stories of six women across generations. Set in a New Deal-era women's work camp on New York's Bear Mountain, She-She-She highlights the nonlinear nature of progress, and explores how we wrestle with the intersections of our inheritance as we are informed and molded by our past.
In the 1930's, Eleanor Roosevelt championed the "She She She" camps as a New Deal program tailored for women, housed in America's National Parks. Jobless women from across the country moved away from their home of origin to gain hospitality and forestry training, and developed a uniquely progressive and interestingly cooperative education along the way. She-She-She is inspired by the friendship between Roosevelt and Pauli Murray (architect of the civil rights and women's movements, gender pioneer), sparked at Hudson Valley's Camp Tera. Despite their disparate perspectives shaped by their difference in race and class, a need for social justice and mutual respect served as the foundation for their friendship and catalyzed their shared ideation, learning and progress. Dixon Place presented She-She-She in its final stages of development after receiving workshops at New Ohio's 2016 Ice Factory Festival, SILO in Penn., and Adelphi University.
 
Produced by Hook & Eye Theater
Conceived by Carrie Heitman

Directed by Chad Lindsey

Written By Cynthia Babak
Production Management by Leah McVeigh

Stage Management by Katie Sammons

Costume Design by Krista Intranuovo

Sound Desgin by Nok Kanchanabanka

Lighting Design by Alejandro Fajardo

Scenic Design by Patrick Burlingham

Artistic Associate: Kyle Beckley

Creative Producer: Morgan Lindsey Tachco

PR: John Wyszniewski - Everyman Agency
Ensemble
Devised & Performed by Cynthia Babak*, Emily Kunkel*, Carrie Heitman*, Chad Lindsey*, Elizabeth London*, Nylda Ria Mark*, Asia Mark, Javan Nelson, Jeremy Rafal
*Member of Actors Equity Association
CYNTHIA BABAK (Writer) is a multi-disciplinary theater artist. She is a founding member of Brave New World Rep, a core member of Hook & Eye Theater, and a 2015 recipient of the Tanne Foundation Award. Playwright: WHERE I DWELL (developed at Florida Rep, Lanyard Theatre/ME), IN THE SKIN (O'Neill semi-finalist). Director: Lynn Nottage's FABULATION, or the Re-Education of Undine; Arthur Miller's THE AMERICAN CLOCK (Brave New World Rep). On stage: Robert Wilson's THE GOLDEN WINDOWS (BAM); GOD IS A VERB (Hook & Eye); THE TWELFTH LABOR (Loading Dock). Her comedy show BABES IN THE WOODS continues to run at various NYC venues, including THE MOSQUITO/Dixon Place.
CHAD LINDSEY (Director) is a New York-based actor and director. As founding co-artistic director of Hook & Eye, he has directed THE SUMMONERS (2014) and GOD IS A VERB (2016). Regional/Off-B'way: Barry Manilow's HARMONY (Ahmanson/Broadway World award), A MIDSUMMER NIGHT'S DREAM (Classic Stage Company), CHEKHOV LIZARDBRAIN (Pig Iron/Obie Award), Liz Swados' KASPAR HAUSER (The Flea). Film/TV: It's Complicated, Girls will be Girls (Sundance), Royal Pains (USA), How I Met Your Mother (CBS), One Life to Live (ABC), and many others. B.A., Music: Valparaiso University.
IMAGES/VIDEO FROM PAST WORKSHOPS OF She-She-She
Above: Images from the workshop production of She-She-She at New Ohio's Ice Factory Festival, 2016 for more on that production, click HERE.
Above, images from our first workshop in 2016 - Below, our interview for the Ice Factory Festival.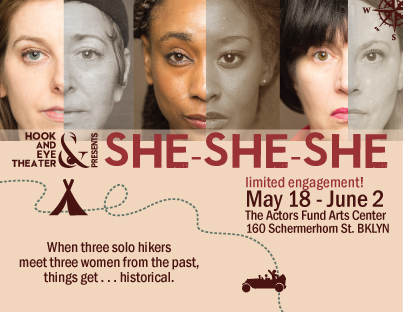 She-She-She was preceded by a social media campaign celebrating the women who mean the most to our cast and creatives. . . on whose shoulders we stand. The campaign was called "31 Shoulders" and one woman was honored in each of the 31 days of March - National Women's History Month. The full Gallery is HERE.